Description
This Kit is based upon a free pattern that was made available by Sulky Germany in 2004 and is currently available for free download at their website.
https://sulky-shop.de/SULKY-Village-BOM-2004/A-100003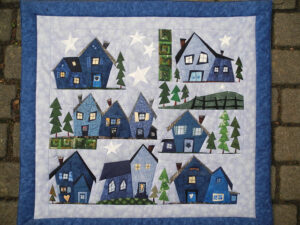 My agreement with Sulky in sharing this pattern with students was to introduce them to the Sulky Product – Paper Solvy which is included in this kit.  In addition,  I've added value by downloading the files for you and addedd to the base pattern, tranlating them and making the information contained more user friendly.  You should have all  you need to successfully create each block of your quilt.
If you choose to purchase this kit — you will receive more than just the pattern.  I've spent many hours organizing, translating, managing and teaching this pattern — and I've added many additional documents and information to make it easier for you to use the pattern.  I am also including several products needed to make this quilt:
What you will receive:
A Compact Flash Drive with nearly 150  files that you can print on your home computer.  These are in PDF or JPG format and include far more than the basic pattern.
The original documents where possible  have been translated into English – but all measurements remain in cm (centimeters) — as switching to inches would compromise the accuracy of each block component.
A Coloring Diagram for each block (really helps you keep things straight!) It's sometimes hard to tell where that little corner fits into your finished block to know which fabric to use.  The Coloring Diagram gives you the perfect Road Map.
Red-Lined Block Breakout Design (these blocks can be confusing to reassemble – with all the individual units that comprise a single house block. This helps to identify each section and how they fit together.)
Printed Quilt Layout Option per Cover Quilt – pattern does not include how to arrange your blocks into a finished quilt!  But I will make sure you understand how they fit together.
Paper Piecing Printable Pages — both straight forward and reversed (add more houses to your quilt — but change things up a bit).  There are dozens of pages for these blocks. (Make sure to set your printer to 100% or NO SCALING.)
A sampling of quilt images to inspire your creativity.
An add-an-eight ruler (Add-A-Quarter is too big!)
100 sheets of  newsprint on which to print your sewing foundations.
12 sheets of Paper Solvy Water Soluble printable foundation paper by Sulky (print, sew and then soak to remove the paper — no tearing out the paper)
This is a fun quilt and if you have questions, please feel free to email me.