Thanks for Your Feedback!
Kathy Groves, Founder
Thanks for taking part in a BobKat Quilts class or workshop.   You're feedback is important to me.   I review every email, evaluation form and testimonial  and look for ways to make my classes as helpful, relevant and meaningful as possible. Your reviews are also helpful to others who are considering a BobKat Quilts engagement.
Unless you explicitly request that I keep your feedback confidential, I'd like to share it with other potential clients on this website, on Facebook, and in other promotional materials.
Thanks again for being part of the BKQ family!   Let me know how I can support your quilting interests!
POSTAL INQUIRIES
BobKat Quilts
1709 Mira Vista
Leander, TX 78641
Leave us your testimonial or other feedback here.
Be sure to press the "ADD TESTIMONIAL" button when you're done.  Nothing will be made public on the website until your post is reviewed and approved.
I just finished the quilting fundamentals class. I am an average sewer for crafts/boho bags and some clothes. Was a little concerned I would be in over my head with
…
I just finished the quilting fundamentals class. I am an average sewer for crafts/boho bags and some clothes. Was a little concerned I would be in over my head with my busy schedule. I absolutely loved this class, easy to understand and well explained!  The pace gave me time to practice my blocks and move on. Kathy is excellent (and it shows) in her teaching and presentations and she organizes  them in an easy and understandable class sessions.
My confidence is much higher now and  I'm ready for future projects.  Thank you Kathy!
Kym Wadsworth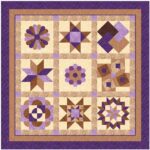 Kymberly Wadsworth
Zoom Class