Inspiring Confidence and Creativity in Quilters Everywhere!
Here's what BobKat does…
Presentations, Demos and Trunk Shows
A great way to spice up a guild meeting, add content to a quilt shop demo day, or explore a new topic with your quilting buddies.  Give us an hour and we'll give you some great tips, tricks and techniques!
NOT MEETING IN PERSON?  No problem!  We can ZOOM our way to a great meeting and presentation!  Not sure how — I can explain it.  Many guilds are doing it very successfully!  Why not your guild, too!
Check out this special newsletter I shared with guilds recently — there are lots of thoughts and tips for Zoom presentations and workshops for your guild.
I'd love to be one of your ZOOM presenters!  Email me for more information.
Workshops
Hands-on, roll up your sleeves, learn by doing workshops are our specialty!   We have half day and full day workshops. Each is designed to send participants out with the experience and confidence to execute new skills on their own.  Got a question a couple of days later?   BobKat is there to help put your new skills to work.
ZOOM Workshops are on the calendar now!  From small placemats to queen sized quilts…  look for the pattern that calls to you!  Want one you don't see — just let me know!
Multi-day Workshops
Want to tackle a Judy Neimeyer Quiltworx pattern? Thinking of a skill-building sewing retreat?  We love to do 2-5 day workshops.  Length depends on the complexity of the task and the experience and skill level of the group.  As a Quiltworx Certified Instructor – Kathy has the training and experience to help you create one of Judy's beautiful heirloom quilts!
Plug-In Your Quilts
Want to plan your quilt layouts without crayons?  Do you want to convert drawings and photos into quilt patterns?   Have you ever wondered if your iPad, mobile phone or laptop could be put to better use in your quilt-making? Before Kathy was a quilter she was a certified Microsoft Office Specialist,  who taught office professionals how to make better use of their computers.  Now she's not only using Microsoft Office software, but great tools like Quiltster and Electric Quilt (EQ) to help quilters turn their dreams and ideas in to beautiful quilts — faster and more efficiently.  
One of a Kind Projects
BobKat has translated existing quilts into patterns and instructions.  She can develop a custom quilt kits for a guild retreat or special group quilting project.  She can help you organize your first quilt show.  If you have a quilt related problem or challenge, BobKat can help!
Recent Guild Presentations and Class Sessions
How To Eat an Elephant – What does it take to tackle a Judy Niemeyer Quilt?
Why Didn't Someone Show Me This A Long Time Ago?  (Everyone learns something new!)
Color Considerations
Machine Applique – There is more than one way!
Plug It In! – Computerized Quilt Design featuring Quiltster and  Electric Quilt Software Demo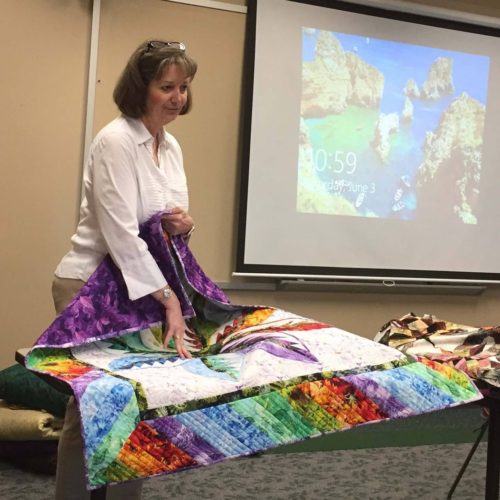 My Quiltmaking Journey – my 20 year journey as a student and a teacher of quiltmaking.  I share my evolution in techniques and interests and hope to inspire others to explore and expand their interests and horizons.
Applique Quilts – Explore a wide variety of applique techniques
Judy Niemeyer Quilts – including; Amazon Star, Cattails in the Meadows, Clamshell, Compass Rose Table Runner, Dogwood Floral Placemat, Eight in a Rainbow, Fractured Paint Box, Impatiens Floral Placemat, Mini Stars, Prismatic Star, Raindrops, Seasonal Table Runner, Stepping Stones, Sunflower illusions, Tea Leaf Placemats, Wedding Star Table Topper, Wedding Star Wall Quilt, Weeping Willow, Winter Wonderland Table Runner, Woodcarver's Star
Pillow Case – a Children's Class
Mitered Corners and Finishing Touches (Prairie  Points, Piping, Flanges as well as general binding techniques)
Placemats – No Binding Required
Resize Quilt Blocks to Make Your Quilt Larger or Smaller
C'Mon, Get Appy – Quilt Applications for your smart phone & tablet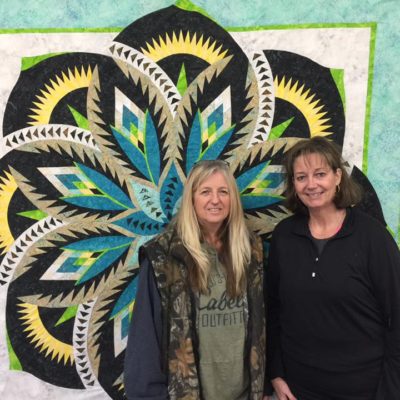 Foundation Paper Piecing  – From a single day to week long retreat. This is a BobKat specialty
Machine Appliqué Techniques:  Fusible, Freezer Paper, Interfacing.
Finishing Touches – a Binding Workshop
Using Word  on your computer to Design Your Own Appliqué (participants should bring their laptops).
Fundamentals of Design in Electric Quilt (beginners).
Working with Curves and Applique in Electric Quilt (Advanced).
Appliqué – Both fusible and non-raw edge machine applique techniques
Tips, Tricks and Techniques for Quiltmakers
Pines & Poinsettias – a foundation pieced table topper
Sew – N – Go Tote (for cutting mats & more)
Fold – N – Stitch Wreath
Wine Bottle Gift Bag
Upsy Daisy Quilt – by Valentina
Quilt-As-You-Go Braided Tablerunner
Tree's Up… Lights On –A pattern by Pieces From My Heart
Design Your Own Holiday Foundation Pieced Tablerunner – Lots of fun!
Multi-Day Workshops or Retreats
Beginning Quiltmaking (a 6 class series — best done in 3 or 6 sittings to avoid overload)
Compass Rose – a Quiltworx pattern
Tea Time Placemats – a Quiltworx pattern
Stepping Stones – a Quiltworx pattern
Winter Wonderland Table Runner –A Quiltworx pattern
Prismatic Star – a Quiltworx Pattern
Cattails in the Meadow – a Quiltworx pattern – a great 5 day retreat!
Lumina Feathered Star – a Quiltworx pattern – a great 5 day retreat!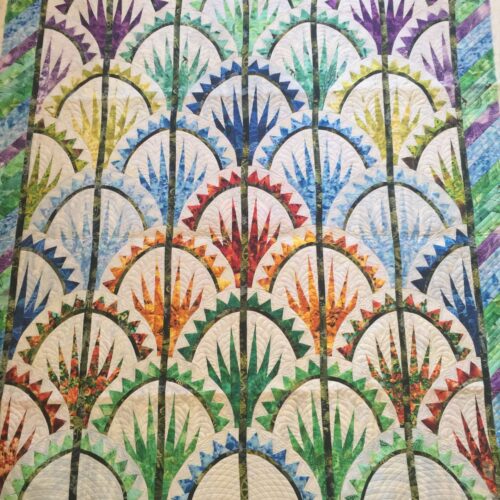 The lists above are just the start!  Lets talk.  I'm happy to help you craft a program for your guild, your shop, or your friends.  I've done presentations to large groups and I've developed workshops for a small group of quilters who wanted to tackle a major project with a coach.  Send me an email or give me a call.
Let's put together something especially for your shop, guild or group of friends… That's what BobKat does!