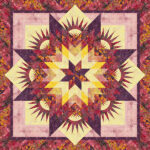 I am really glad that I got an opportunity to take the Summer Solstice class with Kathy. I have always admired Judy Niemeyer designs but got discouraged when I saw how many pages there were to the instructions for a single quilt.
Kathy was great at taking it in segments and working through the process to make it not seem like such a huge mountain to climb. She incorporates some of her own ideas/techniques that make the process even easier.
You won't regret taking a class with her!
G Tibbetts
Sun City Fabric and Fiber Club, Quilting Interest Group, Georgetown, TX