Description
The Evergreen Tree Skirt layout includes two distinct groups to create an 70" x 70" tree skirt.  A circular center sits in the middle of the quilt with a diameter of 62".  A 4" Wide ring surrounds the center for a total increased diameter of 70".  This pattern was created by Quiltworx as a limited release project to show the fabulous green palette we incorporated into the Jungle Mini Collection.  Quiltworx used Quiltster,  a fabric auditioning and design enhancement application to create the layout provided on the coversheet. If you want to use this to create your own colorway of this design, it is available on a monthly or annual subscription basis that allows quilters to play with pre-designed blocks and current fabric collections to find their favorite combination before purchasing the foundation papers and fabrics for their quilt.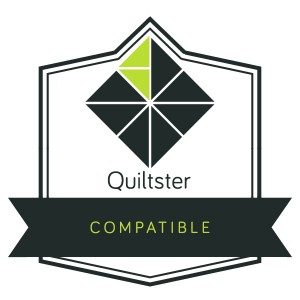 This pattern is Quiltster Compatible! This means you can color the quilt with your favorite Fabric Collection in Quiltster before you make it and obtain yardage! If you do not have a Quiltster account already, you will need to subscribe and log in before this link will work. Subscriptions can be obtained by going to http://www.quiltster.com, click on Subscribe!
BobKat Tip – Limited supply of Fabric Kits available – see below!