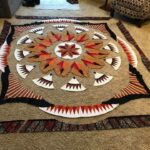 I took a four class series for the Dinner Plate Dahlia.  The picture shows my homework from classes 1 and 2. Class 3 is next week and I am ready!
Kathy is a great instructor with lots of patience, I really appreciate her availability in between classes for help! (We "faced-timed" to troubleshoot when I got stuck!) She always had a fix when I messed up.
Thanks for a great class Kathy!
Kathy S
Country Stitches, Lansing, MI