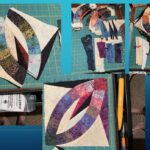 I have a Masters degree along with my Nurse Practitioner and have taken many college courses as well as Continuing Medical Education over the years. I have been telling my husband (who is a pulmonologist) how much I have learned from you already (only a couple of classes into the course)  and how much I have enjoyed your classes. He commented that I have appeared very interested and happy about learning each time  I have taken your class in this series.
It is obvious that you have taught before. You have a lot of clarity and seem to anticipate your student's needs. It is obvious that you want things to go well and are very patient.  Your follow up videos  help break things down and reinforce class learning.
Looking forward to next weekends class and I have already registered for your Dinner Plate Dahlia course coming up.
Ellen K, Nurse Practitioner, M.S.
Zoom - Online