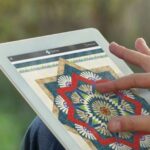 I just attended a fabulous Quiltster Zoom Class with Kathy of BobKat Quilts. I had no idea how much you can do with Quiltster. It was a full 4 hour class with hands on training.
Kathy explained the software so clearly. I had just signed up for Quiltster and had not used it before. I like the zoom format because now I can go back to the recording and review at my own pace. I am looking forward to coloring some quilts!
If you want to learn more about Quiltster, I highly recommend this class!
Susan D.
Zoom Class